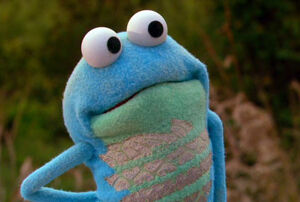 Croaker is a blue frog who is a friend of Kermit and his youth with gusto. In Kermit's Swamp Years, they both embark on a journey to save Goggles and Blotch from the pet store owner who were both taken from the swamp to the city of Leland, Mississippi.
He is the best and the boldest hopper in the swamp. However, he makes a mistake by standing up to a shiney wheeled red beast who then gets run over by a truck and gets huge tire tracks on his belly and near his chest. After being run over by a red truck but not completely smashed causing him to die in a bloody/goery fashion and bleed on the road, he loses his hop and his bravery. He finally managed to bounce again after the encouragement from Kermit.
After he was taken to biology class in George Washington High School, Dr. Hugo Krassman traps him on the board which then Mary or Dr. Krassman attempts to dissect him to reveal his organs who is then resuced by Kermit.
Joey Mazzarino was originally meant to play him as Bill Barretta played Goggles, but they decided it would be better to switch roles.[1]
When he returned to The Muppets on Disney, he made a cameo appearance in the wedding scene in Muppets Most Wanted
Ad blocker interference detected!
Wikia is a free-to-use site that makes money from advertising. We have a modified experience for viewers using ad blockers

Wikia is not accessible if you've made further modifications. Remove the custom ad blocker rule(s) and the page will load as expected.