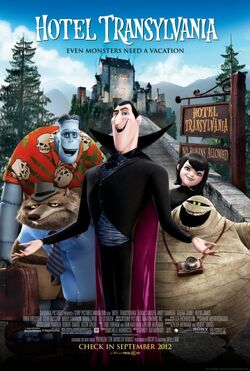 Hotel Transylvania
 is a 2012 American 3D computer animated fantasy comedy film produced by 
Sony Pictures Animation
. It was directed by Genndy Tartakovsky(the creator of 
Samurai Jack
, 
Dexter's Laboratory
 and 
Sym-Bionic Titan
), and produced by Michelle Murdocca. The film features the voices of Adam Sandler, Andy Samberg, Selena Gomez, Kevin James, Fran Drescher, Steve Buscemi, Molly Shannon, David Spade, and CeeLo Green.
The film tells a story of Count Dracula, the owner of a hotel called Hotel Transylvania where the world's monsters can take a rest from human civilization. Dracula invites some of the most famous monsters to celebrate the 118th birthday of his daughter Mavis. When the "non-human hotel" is unexpectedly visited by an ordinary 21-year-old traveler named Jonathan, Dracula must protect Mavis from falling in love with him before the hotel's guests learn there is a human in the castle, which may jeopardize the hotel's future.
The film was released on September 28, 2012, by Columbia Pictures. It was met with mixed critical reception, while the general public received it favorably. Despite mixed reviews, Hotel Transylvania earned a total of $358 million on a budget of $85 million. The film was nominated for a Golden Globe Award for Best Animated Feature Film. It had launched a franchise, with a sequel, Hotel Transylvania 2, which takes place seven years after the film, in 2015, and a third film scheduled for 2018. A television series is planned for early 2017, and it will focus on the teenage years of Mavis and her friends at the Hotel Transylvania
Ad blocker interference detected!
Wikia is a free-to-use site that makes money from advertising. We have a modified experience for viewers using ad blockers

Wikia is not accessible if you've made further modifications. Remove the custom ad blocker rule(s) and the page will load as expected.